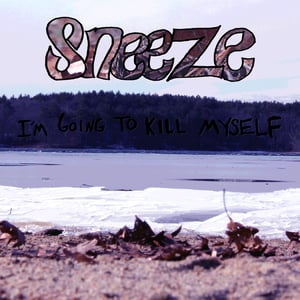 $

10.00
All European Residents please order from - http://cthrecords.bigcartel.com
Finally Available on 12". Order today!!!
We will have a package deal posted soon!
This is the debut full length from Boston, MA's garage punk / grunge band Sneeze. The band includes members formerly of the bands L'antietam and Ape Up.
Co-released on 12" vinyl by Close To Home Records in the UK and Midnight Werewolf Records in the US. It's available on two colours; Cloudy Clear (US pressing, limited to 300) and Transparent Blue (UK pressing, limited to 200).
FFO: California X, Glocca Morra, Gnarwolves, Joyce Manor, Teenage Cool Kids.
"On the starkly titled I'm Going to Kill Myself, Sneeze find the perfect middle ground between grunge's distorted accessibility and punk's anthemic abrasiveness. Over fifteen tracks, the band takes you on high adrenaline ride with angular turns and well placed hooks that keep you reeled in." - Stereo Typing Media
I will also be sending out this record with a ton of free goodies!
1.Intro 02:29
2.Canker 02:19
3.Park Her Road 02:03
4.Bad Head 01:23
5.I'm Going to Kill Myself 01:50
6.Vaticant 00:52
7.Dark Elf 01:31
8.Quit Shitting 02:25
9.Brainage Pipe 02:21
10.Crumb 02:35
11.Red Bullgirls 02:36
12.Under the Fridge 01:48
13.Blank Man 01:45
14.Scabass 02:44
15.Outro 03:39
Recorded by Will at Dead Air
Mastered by Nick and Rob at New Alliance